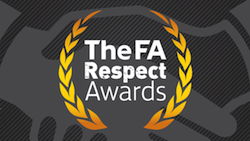 After being
Commended
by The FA in our very first season, this season, we've been named, in the national Respect & Fair Play Awards as the best League in the county and have been awarded The FA's coveted
Bronze Award
. This comes just weeks after we were awarded The FA's prestigious
Charter Standard League
status.
We won these Awards in recognition of our unique
Six Principles
. Teams in our League commit to a
developmental
approach. This means we are more interested in developing each child's full potential than just focusing on results.
Manchester Respect Junior Football League Chairman, Andrew McIntyre, commented
: "We're thrilled to have received both these Awards from The FA. Our League is very special: by removing the constant adult pressure from the sidelines, our children are free to make, and learn from, their own mistakes. This builds their confidence and accelerates their learning and development. On behalf of our 84 teams and 700 players, we'd like to thank Manchester FA for their continued help and support in establishing our League."
The FA's Lorna Bennett said
, "Earning this Award demonstrates the League ethos is being delivered and the League are not stopping here. With plans underway to introduce Futsal alongside full implementation of The FA Youth Review Changes it's a very exciting time to be involved with this League."
With no 'A' teams, all games are far closer and so are far more competitive. This means that all players learn to become good players and the increased challenge of playing in a mixed team means that good players become great players.
The FA's Lorna Bennett presents the Awards to Respect League officials and players.
It's a very exciting time to be involved with this League.
Lorna Bennett, The FA
Children should get equal pitch time in a variety of positions and, instead of shouting constant instructions, coaches allow children to make and learn from their own decisions.

This approach is PROVEN to accelerate player development. That's why it's used by top Premiership Academies.